(SCTP) WSQ Higher Certificate in Healthcare (Therapy Support)
Introduction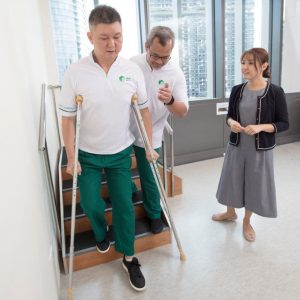 Overview
Learn the skills and knowledge in physiotherapy and occupational therapy services to assist the therapists with the delivery of treatments for patients.
Career Prospects & Progression
Skilled TAs have good career prospects and are high in demand. Graduates can expect a stable and secure entry career in healthcare. With a friendly attitude and good work ethics, graduates can look forward to promising career progression. Therapy Assistant > Senior Therapy Assistant
Award of Certification
WSQ Statement of Attainment (SOA) — for all completed WSQ modules in the programme construct (Trainees who managed to complete all WSQ modules of the WSQ Higher Certificate in Healthcare (Therapy Support) will also be conferred this full qualification)
HMI Institute's Certificate of Completion — for all completed non-WSQ course units in the programme construct
Course Information
Full Qualification Modules
WSQ Higher Certificate in Healthcare (Therapy Support)

Emergency Response And Crisis Management
Client Education and Therapy Support
Client Assessment in Therapy Support
Group Therapy Planning and Implementation
Professional, Legal and Ethical Healthcare Practice

Therapy Support Specialisation Modules

Continuous Improvement Management
Inter-professional Collaboration
Patient Education and Engagement
Workplace Safety and Health

Personal Effectiveness Module

Adapting To Change
Team Building And Development
Effective Communication
Creativity And Innovation In Healthcare
Service Excellence In Healthcare
Data Privacy, Protection And Cybersecurity
Facilitating Learning @ Work
Preparing And Performing At The Workplace
Building Resilience During A Transition
Duration
5 months
Delivery Methods
The course comprises of classroom lessons, skills laboratory training and clinical attachment in a healthcare organization.
Assessment Methods
Oral/written tests, assignments and practical performance.
Entry Requirements
One Pass in GCE '0' or GCE 'N' (any subject), OR
Workplace Literacy & Numeracy (WPLN) Level 4 (Speaking, Listening, Reading & Numeracy) and Level 3 (Writing).
Certified by approved clinics to be medically fit for healthcare training and work.
Must clear HMI Institute's admissions screening process for the course.

Applicants will be assessed by the Institute on their suitability for the course prior to enrolment. Academic qualifications are but one of several assessment criteria.
Fee Payable
COURSE FEE
 Age group

 Course fee after subsidies (Subjected to GST)

Singaporeans 21 years old – 39 years old

*SSG course fee subsidy of up to 70%

$3640.20

SPR or LTVP+ holders 21 years old and above

*SSG course fee subsidy of up to 70%

$3640.20

Singaporeans 40 years old and above

*SSG course fee subsidy of up to 90%

$1213.40
Full Course Fee before SSG Funding: $12,134.
If you are new to HMI Institute and wish to inquire about our training courses, please fill in the contact form.