WSQ Care Assistance Course
Empower learners with practicable knowledge and skills in assisting the elderly in the Activities of Daily Living (ADL) effectively.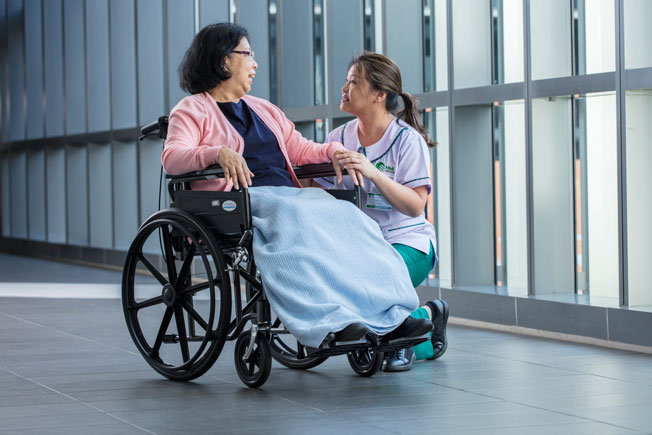 Overview
The Care Assistance Course is designed to empower learners with knowledge and practical techniques to assist the elderly in the Activities of Daily Living (ADL) effectively. The course has high quality educational content, customised with relevance in the context of the rapidly ageing population in Singapore:
Detailed inculcation of caregiving practices that accord respect and dignity to the care user
Scenario-based training where lessons are clearly defined
Step up skills progression, from simple to complex model
Course Objectives
The course integrates key mindsets and behaviours along with technical know-how necessary to:
Excel as an effective care staff, equipped with technical, behavioural and soft skills, providing quality care to the care user
Be employment-ready after the course
To recognize emergent conditions of an older person or the effects of chronic health conditions that affect one's activities of daily living.
To integrate the philosophy of care when assisting clients with activities daily of living and also upholding care-recipient's privacy/dignity.
To provide basic emergency care to the needs of an older person.
Course Outline
Delivered by qualified clinicians, this course is approved by SkillsFuture Singapore, and covers 9 essential modules:
Demonstrate understanding of aging processes and associated medical conditions
Demonstrate understanding of the intermediate long term care environment
Demonstrate Understanding On Ethics Of Care Staff
Technique of Effective Communication
Infection Control in Care Setting
Response to Emergencies at Care Site
Assist with mobility and ambulation with and without the use of mobility aids
Assist with nutritional needs
Assist with elimination related activities
Target Audience
New entrants who want to work as home-care staff
Care staff in elderly day-care centres.
Care escorts accompanying elderly people or adults with disabilities, on local journeys and appointments.
Family caregiver who wishes to increase your knowledge and skills to deliver person-centered care to elderly at home.
Certification
Upon successful completion and assessment of the course, participants will receive a formal recognition through the award of a Statement(s) of Attainment (SOA).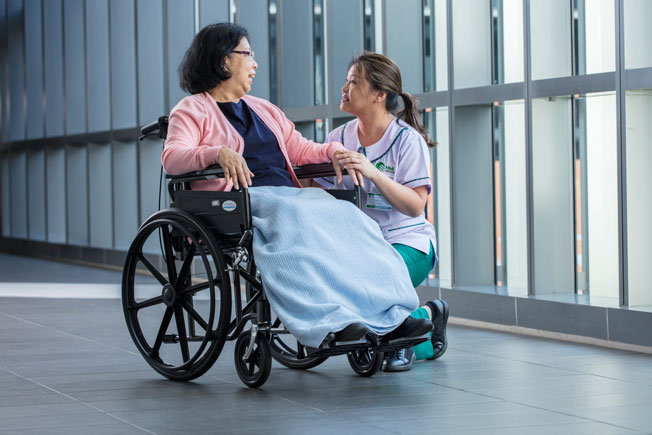 Course Date
25 January to
27 January 2023
6 February to
8 February 2023
13 February to
15 February 2023
6 March to
8 March 2023
13 March to
15 March 2023
9.00am – 6.00pm
Course Date
25 January to 27 January 2023
6 February to 8 February 2023
13 February to 15 February 2023
6 March to 8 March 2023
13 March to 15 March 2023
9.00am – 6.00pm
Course Duration
3 days
Mode: Pre-read and in-person training
Course Venue
HMI Institute
Course Fee
Singaporeans 21 years old – 39 years old:
$225.00(after 50% subsidy)
SPRs 21 years old and above:
$225.00(after 50% subsidy)
Singaporeans age 40 years old and above:
$135.00(after 70% subsidy)
Full Course Fee:
$450.00

* Course fees are subjected to GST

Fees can be offset via SkillsFuture Credit.
Above Subsidy applicable for Singaporean / Singapore PR of age 21 years old and above.
*SSG Mid-Career Enhanced Subsidy only applicable to Singaporean age 40 years old and above.
HMI Institute reserves the right to postpone or cancel the courses if minimum enrolment is not met.
"The
WSQ Care Assistance Course
is informative, well-structured and easy to follow. The part I like most is the practical role-plays as I have the opportunity to put the theory learnt into practice. The trainers are attentive and helpful in answering to our individual learning needs. I highly recommend this course as the skills, abilities and knowledge you are useful and applicable even if you do not work in the healthcare industry."
"I would recommend everyone to take this course as most of us have seniors and elderly at home, sometimes we may face situations of not knowing what to do. Even if you have a helper at home to support the seniors, it is still important for us to be equipped with the basic knowledge and skills on how to take care, and provide a safe environment for our elderly at home."
"Ever since my family member fell sick, I realized it's necessary to have some knowledge and experience regarding medical care/assistance to my loved one and other senior citizens. As such, I had an interest to sign up for this course and my supervisors in Sasco encouraged me to attend as well. This course enabled me to learn a lot of professional care assistant knowledge which is not only beneficial for my future career, but also beneficial for my family and myself one day. As a lifesaving course, I would definitely recommend this course to my friends and family."
If you are new to HMI Institute and wish to inquire about our training courses, please fill in the contact form.