Refund Policy & Procedure
Details you need to know on the refund policy and procedure.
REFUND (in the case where the student withdraws or the PEI-Student Contract and Supplementary Student Contract is terminated before the end of the Course)
(a) Course Fee
There will be a cooling-off period of 7 working days after signing the PEI-Student Contract. Students have the right to cancel the contract within the 7 working days and be refunded the highest percentage (Refer "Maximum Refund" in table below) of the fees already paid if the students submit written notice of withdrawal to HMI Institute of Health Sciences (HMI Institute) within the cooling-off period (refer to Clause 2.3 of PEI-Student Contract) regardless of whether the Student has started the course or not.
Request for withdrawal after cooling-off period shall be subjected to the Refund Policy table shown below.
Refund Policy for Class/Intake Commencing on & after 01 February 2017
% of [the amount of fees paid under Schedules B and C]
If Student's written notice of withdrawal is received:
50%
Before the Course Commencement Date
10%
("Maximum Refund") After, but not more than [7] days after the Course Commencement Date
0%
more than [7] days after the Course Commencement Date
(b) Non-Tuition Fees
Application Fee and payment for uniform purchased are non-refundable.
Refund due to school's non-fulfillment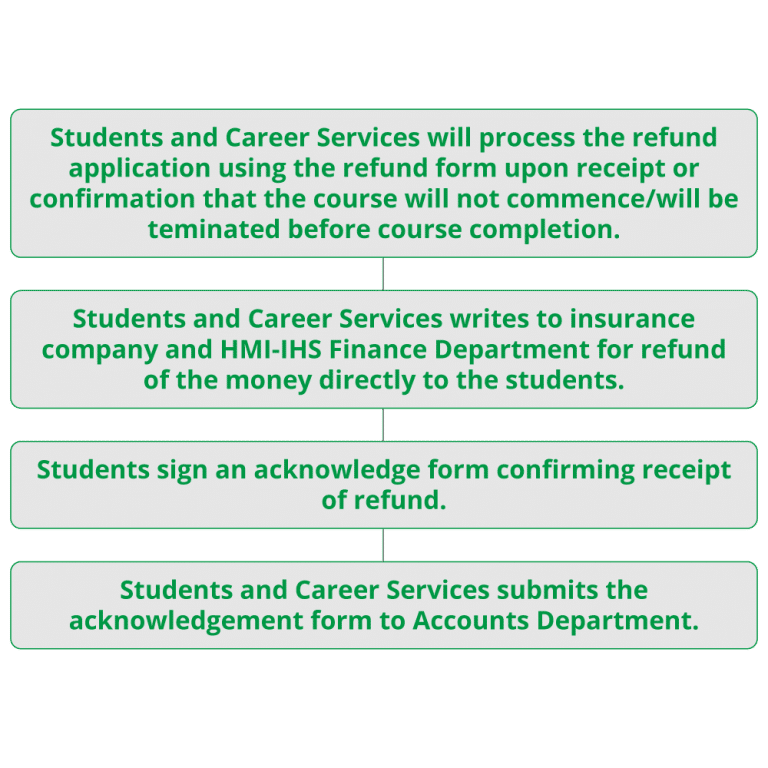 Refund due to student's withdrawal