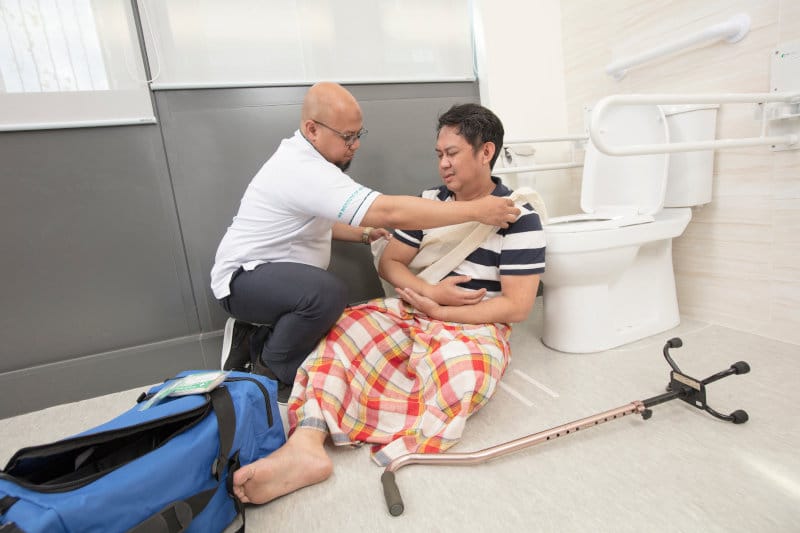 Overview
This course will equip participants with the essential theory, hands-on skills, and knowledge related to emergencies in the workplace. Upon the completion of this course, participants will be able to implement what they have learned when it comes to unforeseen circumstances in the workplace requiring immediate paramedical attention.
Objective
To empower participants to effectively respond to first aid emergencies in the workplace until the arrival of medical assistance.
Class Size
The class will only commence with a minimum of 8 participants. For corporate bookings, please refer to the Fees Payable Tab.
Course Content
Module 1: Essentials of First Aid
Definition and Aims of First Aid – Preserve/Save life, Promote recovery, Prevent further injuries | Roles/Limitations of a First Aider | Universal Precautions | First Aid Kit Contents and Maintenance | Primary Survey (DRSABC) | Secondary Survey | Record and Report | SCDF MyResponder App
 
Module 2: Unconscious Casualty (Non-Cardiac Arrest)
Head/Spinal Injuries | Heat Disorders – Heat cramps, Heat exhaustion, Heat stroke | Fits | Fainting | Low Blood Sugar | Stroke | The Recovery Position
 
Module 3: Respiratory Problems
Adult Foreign Body Airway Obstruction | Asthma | Hyperventilation | Fumes Inhalation | Allergic Reaction
 
Module 4: Shock, Bleeding and Wounds
Shock | Bleeding | Wounds – Bruises, Laceration, Incision, Abrasion, Amputation, Bites and Stings (Bee Sting, Scorpion Sing, Snake Bite, Jellyfish Sting and Animal Bite) | Bandaging – Crepe/Roller, Bandaging (Scalp, Eyelid, Arms/Legs, Torso), Application of Tourniquet
 
Module 5: Musculoskeletal Injuries
Fracture and Dislocation – Fractured Skull, Fractured/Dislocated Jaw, Fractured Collar Bone, Dislocated Shoulder, Fractured Rib, Fractured Arms, Fractured Legs | Soft Tissue Injuries | Immobilisation/Bandaging – Upper Body Immobilisation (Arm, Wrist, Collarbone, Shoulder), Lower Body Immobilisation (Leg, Ankle – Figure of Eight)
 
Module 6: Burn Injuries
Burns Depth and Severity of Burns | Classification and Treatment of Burns – Scalding, Radiation/Sunburn, Chemical, Electrical, Thermal
 
Module 7: Other First Aid Knowledge
Eye Injuries – Chemical, Foreign Bodies, Blunt-force Trauma | Epistaxis (Nose Bleeding) | Poisoning | Transportation of Casualty – One Rescuer Carry, Two Rescuer Carry, Improvised methods
 
Module 8: CPR (Hands-Only) + AED
Theory of CPR+AED | Practical of CPR+AED
Accreditation
The course is accredited by the Singapore Resuscitation and First Aid Council (SRFAC) and will be valid for 2 years from the date of issuance.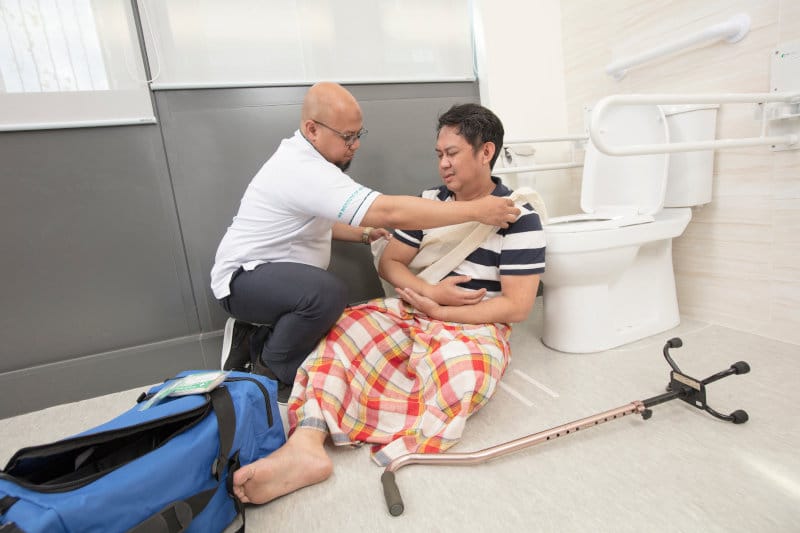 Course Date & Registration
Duration

Classroom – 1.5 days/12 hours
E-learning – 4 hours
(Total 16 hours including Theory & Practical Assessments)
Course Fee
Course Fee for full course (4days)
Nett Fee
Inclusive
of 7%
GST
$620.00
$663.40
Course Fee for refresher course (2days)
Nett Fee
Inclusive
of 7%
GST
$400.00
$428.00
Course Fee
Course Fee
Nett Fee
Inclusive of 8% GST
$179.00
$193.32
(Fee stated is for Individual/Self-sponsored Sign up)
For Corporate Booking/Rate (Fee), please kindly send your request to els@hmi.com.sg with the following information:
1) Total Number of Trainees
2) Total Sessions/Runs
3) Any specific Month or Period
4) Your Company/Organisation Name
UTAP Funding Available
NTUC members can enjoy up to 50% unfunded course fee support with the UTAP funding
* For more information on UTAP, please visit the NTUC website.
HMI Institute reserves the right to postpone or cancel the courses if minimum enrolment is not met.
If you are new to HMI Institute and wish to inquire about our training courses, please fill in the contact form.