(SCTP) WSQ Higher Certificate in Healthcare (Nursing) with Perioperative Specialisation
Introduction
Course Information
Entry Requirements
Fee Payable
Introduction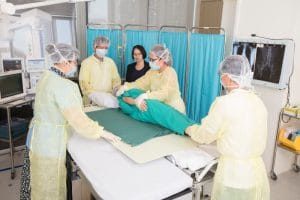 Overview
Learn the skills and knowledge of patient care to assist nurses with patients' needs as well as performing operating theatre procedures to assist surgeons and nurses in pre-operative patient care.
Career Prospects & Progression
Skilled OTAs have good career prospects and are high in demand. Graduates can expect a stable and secure entry career in healthcare. With a friendly attitude and good work ethics, graduates can look forward to promising career progression. Operating Theatre Assistant > Senior Operating Theatre Assistant
Award of Certification
WSQ Statement of Attainment (SOA) — for all completed WSQ modules in the programme construct (Trainees who managed to complete all WSQ modules of the WSQ Higher Certificate in Healthcare (Nursing) will also be conferred this full qualification)
HMI Institute's Certificate of Completion — for all completed non-WSQ course units in the programme construct
Course Information
Entry Requirements
Fee Payable
If you are new to HMI Institute and wish to inquire about our training courses, please fill in the contact form.