Introduction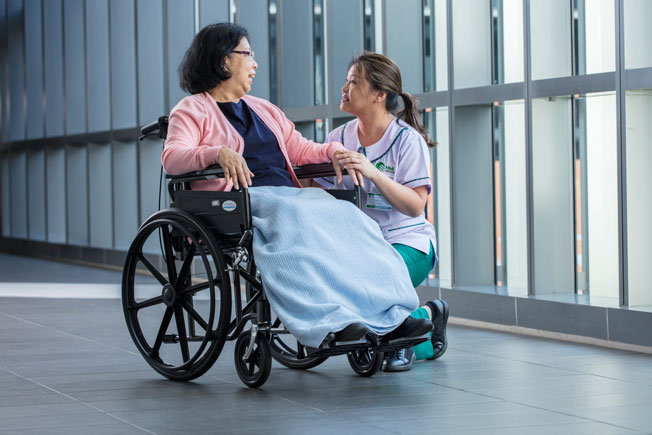 Overview
Learn the basic skills and knowledge of patient care to assist nurses with patients' needs. You will also learn to perform basic healthcare procedures, such as reading patient's vital signs and care of the airway. Upon completion of this course, you can work in a hospital, community hospital or nursing home, day rehabilitation centre and senior care centre.
Career Prospects & Progression
Skilled HCAs have good career prospects and are high in demand. Graduates can expect a stable and secure entry career in healthcare. With a friendly attitude and good work ethics, graduates can look forward to promising career progression. Healthcare Assistant > Senior Healthcare Assistant
Award of Certification
WSQ HIGHER CERTIFICATE IN HEALTHCARE (NURSING) By SkillsFuture Singapore (SSG)
Course Information
Full Qualification Modules
EFFECTIVE COMMUNICATION IN NURSING
MOBILITY AND AMBULATION ASSISTANCE IN NURSING
NUTRITION AND FLUIDS MANAGEMENT IN NURSING
PATIENT CARE DELIVERY IN NURSING
RESPIRATORY CARE IN NURSING
PROFESSIONAL, LEGAL AND ETHICAL HEALTHCARE PRACTICE
PRACTICE INFECTION PREVENTION AND CONTROL IN HEALTHCARE
Duration
2 Months (Full-Time)
Delivery Methods
The course comprises of classroom lessons, skills laboratory training and clinical attachment in a healthcare organization.
Assessment Methods
Oral/written tests, assignments and practical performance.
Graduation Criteria
The criteria for graduation are based on students' attendance and assessment results. Students must meet the 75% attendance criteria, as well as complete and pass all assessments of the course before they are able to graduate and receive their Certificate. All full qualification courses comprise theory, practical and clinical attachment assessments.
Entry Requirements
Minimum
1 pass in GCE 'O' Level (any subject), or 1 pass in GCE 'N' Level in a relevant subject (e.g. Maths, Science) or, WPLN Level 4 (Speak, Listen, Read, Numeracy) and Level 3 (Write)
Certified medically fit for healthcare work by approved clinics
Completing a successful employability interview by HMI Institute
Fee Payable
COURSE FEE
Full Course Fee (Subjected to GST)
$7040.00
SkillsFuture Credit and Post-Secondary Education Account applicable (for eligible trainees)
If you are new to HMI Institute and wish to inquire about our training courses, please fill in the contact form.