Healthcare (Nursing) + Emergency Medical Technician Specialisation
Introduction
Course Information
Entry Requirements
Fee Payable
Introduction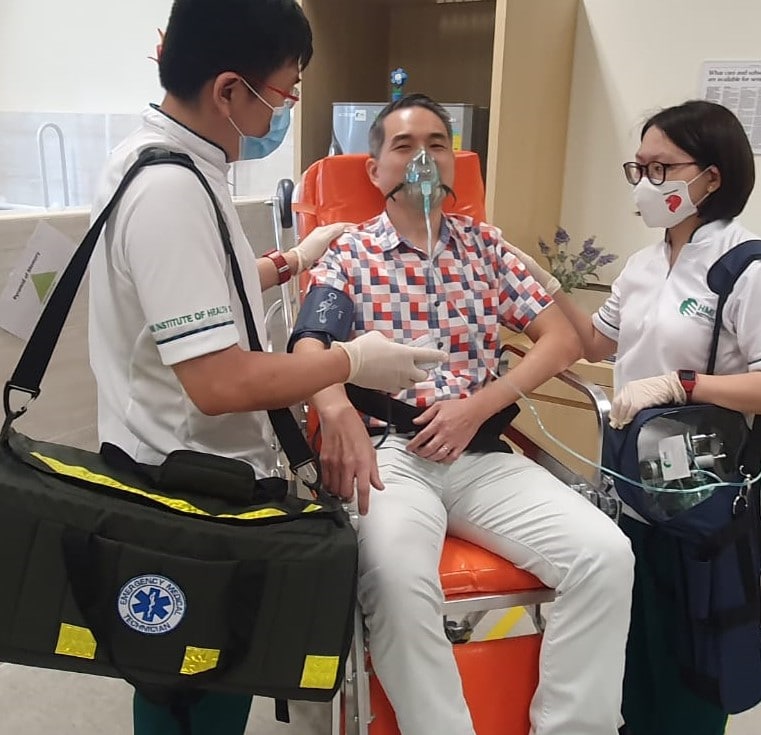 Overview
Learn the knowledge and skills to function as an Emergency Medical Technician in an Emergency and Non-Emergency Ambulances. You will learn to provide emergency care for patients in prehospital care setting in accordance to the Ministry of Health, STANDARDS FOR EMERGENCY AMBULANCE SERVICE (2017) and MOH STANDARDS FOR MEDICAL TRANSPORT SERVICE (2017).
Career Prospects & Progression
Skilled EMTs have good career prospects and are high in demand. Graduates can expect a stable and secure entry career in healthcare. With a friendly attitude and good work ethics, graduates can look forward to promising career progression.
Emergency Medical Technician > Senior Emergency Medical Technician
Award of Certification
WSQ HIGHER CERTIFICATE IN HEALTHCARE (NURSING)
+
Statement of Attainment (SOA) for these WSQ Technical Skills & Competencies (TSC):
| | |
| --- | --- |
| WSQ Technical Skills & Competencies (TSC) | WSQ Module Titles |
| EMERGENCY CARE MANAGEMENT IN NURSING | PREHOSPITAL EMERGENCY CARE |
| MEDICATION MANAGEMENT IN NURSING | ADMINISTRATION OF MEDICATION IN PREHOSPITAL CARE SETTING |
| RESPIRATORY CARE IN NURSING | PATIENT ASSESSMENT IN PREHOSPITAL CARE, AIRWAY MANAGEMENT AND RESPIRATORY CARE |
–By SkillsFuture Singapore (SSG)
Course Information
Entry Requirements
Fee Payable
If you are new to HMI Institute and wish to inquire about our training courses, please fill in the contact form.