BY: CAROL GOH
Published October 24, 2021             Updated October 25, 2021
Seeing that Covid-19 has led to a manpower shortage in healthcare, the writer decided to join this meaningful profession.
As jobs are a top concern for Singaporeans in the Covid-19 crisis, TODAY's Voices section is publishing first-hand accounts from jobseekers in which they reflect on their experiences and what keeps them going.
In this instalment of Jobseekers' Diaries, former aviation industry customer service officer Carol Goh, 50, describes getting retrenched just before Covid-19 hit. A fruitless job search led her to fear she may never work again. She then retrained to work in the healthcare sector and got a position within a month of completing the course.
I was in the aviation industry as a customer service officer for 30 years before being hit with the hard truth in September 2019. I was retrenched.
Covid-19 hit, borders closed and my plan to apply for aviation jobs became bleak. Still optimistic, I evaluated my strengths and sent in applications for customer service jobs in other industries.
"I have 30 years of experience, so getting a job will not be so tough," I thought.
In the next three months, I applied for 30 jobs, and got seven responses, however I turned them down as the salary and environment were not within my expectations.
As economic conditions worsened I thought: "Am I going to be jobless forever and succumb to early retirement at the age of 50?"
As I hunted for a job, I came across articles on training and upskilling. I then realised it was time to pick up new skills to stay employable.
Seeing that Covid-19 has led to a manpower shortage in healthcare, I decided to join this meaningful profession. I thought I could put my customer service skills to good use.
Family and friends supported my decision.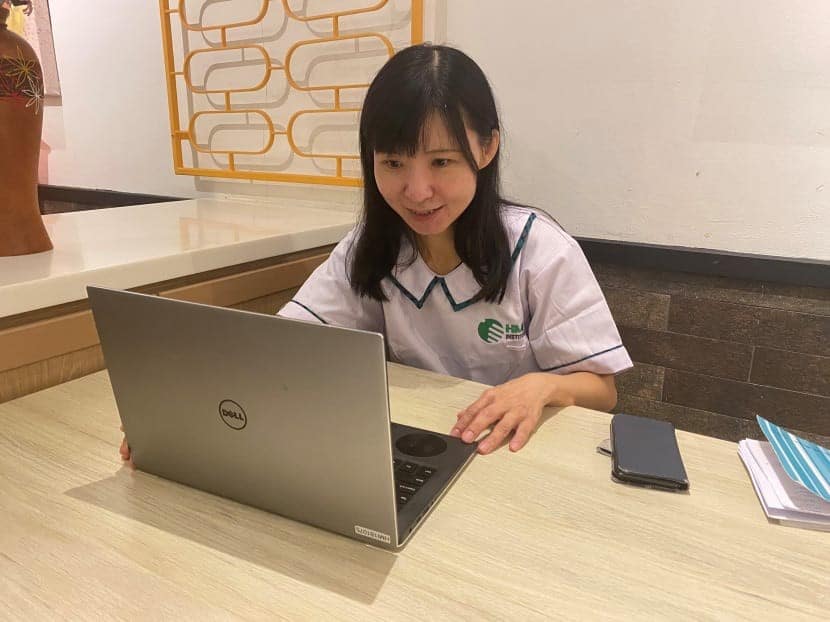 With no experience in healthcare, I was heartened to discover that HMI Institute specialised in equipping individuals in their transition into a new career in healthcare. I signed up for the SGUnited Skills Programme in Healthcare. The course fee for the six-month training programme is S$500, but I offset it using my SkillsFuture credits so I paid nothing out of my own pocket.
I was initially worried that I would be unable to keep up with course mates who could be more digitally savvy. However, my background in administration and love for customer service, cemented my decision to make the switch. 
With high hopes, I began my retraining journey on Aug 7, 2020. We are cross-trained in both technical and soft skillsets, to increase our employability. For someone who last stepped into a classroom more than 30 years ago, my initial worries were allayed as the lecturers were encouraging in their training and guidance.
I enjoyed the practical aspect of the course, where I got to put theory into action, such as work attachments in hospital wards, operating theatres and with ambulance service providers so that I have insights into the realities of working in the healthcare sector.
I completed the course in February 2021. I started receiving numerous job offers, even before I sent in any applications. HMI Institute provides trainees with job matching support so that we are employed after course completion.
I joined the public sector as an operating theatre assistant in May 2021. I started with excitement and never looked back. My role includes supporting the set-up of operating theatres prior to an operation.
Even though I've embarked on a job in a very different industry, what remains unchanged is the passion to deliver good customer service, empathise and be professional when communicating with the client and their family members.
It has been a fulfilling job.
ABOUT THE WRITER
Ms Carol Goh, 50, worked in the aviation industry for 30 years before she was retrenched. She spent almost a year job hunting before enrolling into HMI Institute's Training Course in Healthcare. Less than a month after completing the course, she found a job in the healthcare sector.