BY: LYN CHAN
Published May 25, 2022
When Singapore imposed a stringent circuit breaker in April 2020 to curb escalating Covid-19 infections, Ms Yulia Suriaatmadja, like so many others, found her world upended.
Just a month earlier, the 50-year-old had also begun shouldering greater caregiving responsibilities for her ailing 81-year-old father, including attending short eldercare modules to better assist him. 
The period of home confinement and added responsibilities was a turning point, one that presented an opportunity to change course.
"The time spent during the circuit breaker made me evaluate my life, and what I wanted to do in the next half of my life," says Ms Suriaatmadja, who is married with no children.
She was then working as a financial services consultant following stints in the hospitality industry and luxury fashion retail.
She yearned for a more purposeful career.
So in September 2020, she left the financial industry after nearly four years. "It wasn't easy to walk away from friends who supported me when I first joined the industry and clients whom I've built a good relationship with," she disclosed.

A new start
It made sense for Ms Suriaatmadja that her great work reset would be in healthcare – her first career choice from her teenage years. But back then, her parents wanted her to study business.
More than three decades later, she decided it was the right time for her to "do something that I like and (which is also) meaningful".
With a clear-eyed vision of the path forward, she trawled for opportunities online and found the Facebook page of healthcare training provider HMI Institute of Health Sciences.
She was intrigued by details on how the HMI Institute – as part of the SGUnited Skills Programme (SGUS) – helped individuals transition to a career in the healthcare industry.
The SGUS and the accompanying SGUnited Mid-Career Pathways Programme-Company Training (SGUP-CT) were national schemes launched in 2020 to support jobseekers amid the pandemic.
Taking the plunge
After speaking with the programme's coordinator, Ms Suriaatmadja learned that she could train to be a healthcare professional through the SGUS Patient Service Associate Training Programme.
She signed up for the six-month course, a hybrid of online classes and hands-on training.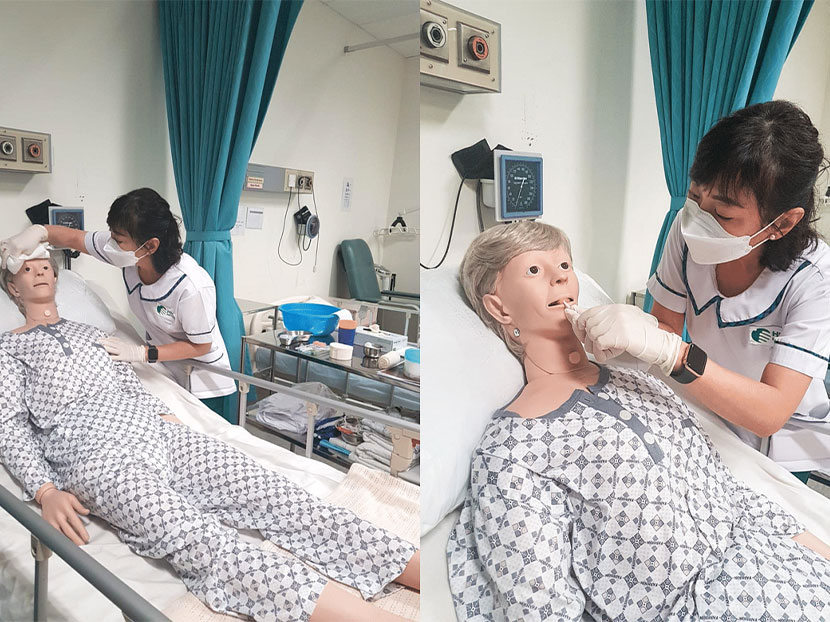 Ms Suriaatmadja was initially apprehensive. "I have no prior experience in healthcare (and I) last stepped into a classroom more than 25 years ago."
But she became motivated by the industry-relevant curriculum and the trainers' dedication and expertise.
"Their guidance and selfless sharing of knowledge and real-life experience were invaluable." Her favourite component was the clinical attachment because it was immersive.
Even before she completed the course in April last year, private healthcare provider Osler Health International hired her to be a patient care assistant through a job fair organised by the National Trades Union Congress' Employment and Employability Institute.
"It was quite a switch. I did have my doubts initially. But as time progressed, I got better at what I did, and began to enjoy my role."
She now oversees the six-member accident and emergency (A&E) admission department at Gleneagles Hospital.
The operational and administrative module of the course has proven to be a godsend. "It provided the basic foundation to run a clinic."
The structured experiential training boosted her confidence, leadership and teamwork skills, she says. On a daily basis, her personal effectiveness and soft-skills learning go into high gear.
"A typical day would have me start the morning checking and clearing emails before I head down to the A&E clinic to help my team with registrations and patient discharges.
"I am a hands-on person. I like to feel the ground, and be there to attend to any issues, such as unhappy patients or operational matters."
The bright spot: "Interacting with patients, talking to them, making them feel at ease and seeing them leave the clinic happy."

No regrets
It's been just over a year since Ms Suriaatmadja stepped into the healthcare industry in a mid-career switch. Any misgivings?
"Definitely not. I am happy in healthcare, there is so much more room to grow. This is just the beginning of the journey for me."
The pandemic may have provided the impetus to her pursuit of a career in the healthcare industry, but the training programme was pivotal.
"I was happy to know that the fee for the six-month programme was highly subsidised."
Overall, Ms Suriaatmadja felt that the course was "a well-rounded programme that equipped me technically and operationally for my foray into the healthcare industry".
To those considering a career switch into a new industry, she has this advice: "For me, the industry I was going into was something that I wanted to pursue. Any new job is always daunting. But it gets easier once you settle down.
"Most important, it (must) be something that you want to do. What matters is job satisfaction."


---

SkillsFuture for jobseekers, mid-careerists
As of last month, the SGUS and the SGUP-CT schemes have been replaced by the SkillsFuture Career Transition Programme (SCTP).
The train-and-place programme supports mid-career individuals in acquiring industry-relevant skills through a variety of subsidised modular courses to improve employability and pivot to new sectors or job roles.
Courses are available in a part- or full-time format, ranging from three to 12 months.
Jobseekers that have been unemployed for more than six months, require financial assistance or have disabilities may receive subsidies of up to 95 per cent of course fees, subject to eligibility criteria.
The SCTP will be delivered by selected continuing education and training centres, and trainees will receive pre- and post-training coaching support such as career advisory and guidance.
The SCTP is progressively rolling out new courses and aims to offer around 200 courses by 2025.
By the numbers
Number of new courses the SkillsFuture Career Transition Programme (SCTP) aims to offer by 2025
Targeted number of workers to be trained annually by 2025
…Of course fee funding support that jobseekers may receive for the SCTP, subject to eligibility criteria
Keen to make a career switch? Click here to learn more about the SkillsFuture Career Transition Programme.
This feature is brought to you by