Semi-retirement for 55-year old Yeo Keng Ho means the opportunity to contribute to the community in a more gratifying way. A former Operations Director with a US manufacturing multinational corporation, Mr Yeo chose to walk away from the attractive package and all the perks of a senior position to become a therapy assistant at the St. Andrew's Community Hospital.
"I've always thought of going into semi-retirement when I reach the age of 55 and doing something that is meaningful and totally different from what I've been doing for the past 32 years," he explains. In making this decision, Mr Yeo had the support and encouragement of his wife and two grown children who are both studying at the National University of Singapore.
Taking a positive step
Mr Yeo had little difficulty to make the switch to a Therapist Assistant (TA). After in-depth discussion with his Career Consultant at WDA Career Centre@South East Community Development Council, he was referred to the course preview conducted by HMI (Health Management International Pte Ltd).
"I attended their talk and was drawn to it as it could provide skills and knowledge that are practical and applicable to helping others, family members and even myself. Moreover, the healthcare industry is in need of people and I could do something to stay active and meaningfully engaged, which was my objective of going into semi-retirement," he says.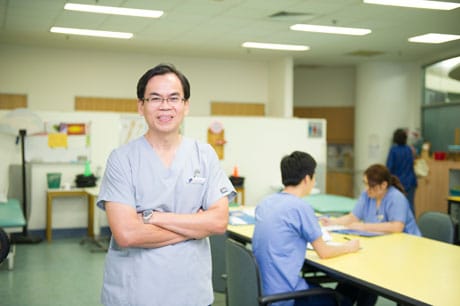 Getting the right skills
With encouragement and help from his WDA Career Consultant and HMI, Mr Yeo soon achieved his objective to move on to become a Therapy Assistant. In his new role, he assists the therapist in administering treatment and rehabilitation plans. To acquire the essential skills to be a competent TA, he attended a 4-month WSQ course and attained the WSQ Higher Certificate in Therapy Services. The course which was delivered by HMI and funded by WDA was 4 months long and included 5 weeks of clinical attachments to hospitals and nursing homes.
While he was able to apply his people management and computer skills to his new job, Mr Yeo acknowledged that he faced a new learning curve in his new role. Challenges he faced included applying the right type of therapy treatment by understanding the patients' conditions. Mr Yeo was however fortunate to be working in an environment where there was an open culture of learning and coaching. Whenever he needed advice, a senior therapist would be at hand to guide him.
Seeing the rewards
Seeing patients make good progress is Mr Yeo's reward. "You saw them happy excited when they started to carry out simple activities such as sitting up, standing, or walking, which most of us would often take for granted. In the long run, I hope to continue sharpening my skills and gain more knowledge in this field. I would definitely consider further studies in the future."
Meanwhile St Andrew's Community Hospital is also pleased that Mr Yeo made the decision he did. "We're always in need of people and Mr Yeo is doing a good job. The WSQ training also helped him in getting a headstart" says Mrs Yuen-Chiew Yee Mee, the hospital's Director of Human Resource.
If you would also like to offer your help to those in need of therapy services, visit the WSQ Healthcare Support webpage to find out more on how you can acquire the right skills to do so.
Are you inspired by Mr Yeo's story? Upgrade your skills and you too can carve out a new career and fulfil your career aspiration! Visit our website to find out more.
Source: http://www.wda.gov.sg/issue6/article4.html#.VvETf7N97IV