BY: ALAN CHIANG
Published May 7, 2023
The fast-changing nature of work has prompted many Singaporeans to upgrade their skills to stay relevant. TODAY's Voices section is publishing first-hand accounts of young Singaporeans who have recently done so to give their careers a boost, or even pursue new paths in life.
In this instalment, Mr Alan Chiang, 38, a former corporate communications professional, describes how his desire to spend more time with his family prompted him to venture into healthcare. After getting the relevant certifications, and with the help of a career conversion programme, he now works as a senior therapy assistant at Tan Tock Seng Hospital and hopes to become a physiotherapist in future.
My journey towards a fulfilling career in healthcare began after a decade of working in the communications industry.
I graduated with a Bachelor's of Mass Communications from Murdoch University in Australia in 2010, and held corporate communications roles in sectors such as education, environment and sports.
The hours were long, and I frequently had to work overtime and on weekends.  
Although I enjoyed my work, I dreamt of pursuing a more fulfilling and meaningful career that also allowed me to prioritise my family. 
The lack of work-life balance exacerbated after the arrival of my firstborn son in January 2022.   
I knew then that I had to make a career switch. 
Back in 2019, I had taken a sports therapy course with my SkillsFuture Credit to expand my skillset.  
I obtained a certification in sports massage as I found it beneficial for muscle injuries. 
This sparked my interest in joining the healthcare sector as a physiotherapist.
Why physiotherapy? I think it is different from other medical fields, as it takes a holistic approach to health and wellbeing. 
It encourages physical movement and helps people of all ages recover from a wide range of health conditions.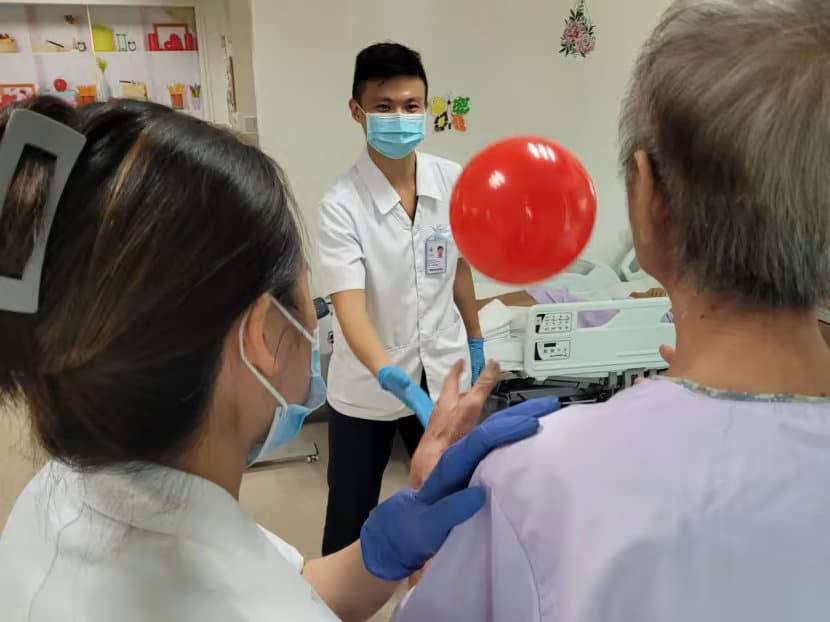 I researched relevant courses and took up certifications to help achieve this dream. 
This included a specialist diploma in gerontology — the study of ageing — at Temasek Polytechnic. It was a one-year, part-time programme which I completed last October.  
That same month, I also completed a month-long certification for basic exercise science at Republic Polytechnic, which I also did part-time. 
I then found the SkillsFuture Career Transition Programme Therapy Support course offered by healthcare training provider HMI Institute.   
This piqued my interest as it included a training attachment with a healthcare institute.   
The difference was that this was a full-time course that would take five months, but I decided that the time was right to leave my old job and take the plunge. 
It was difficult not getting any income during that period. Thankfully, my wife was supportive, and we agreed to cut back on our expenses.  
I enrolled in September 2022 and graduated in January.  
The training equipped me with the skills and knowledge to start my career as a therapy assistant. 
For instance, we learned about medical terminology, how to read vital signs, manage a patient's physical and mental needs, and respond to medical emergencies.
Training to become a therapy assistant was quite different from communications, which involved sharing information to manage perceptions about an organisation. My focus now was working together with physiotherapists to help patients get better. 
Beyond technical training, the programme enhanced my confidence, leadership abilities, and teamwork skills. 
I attended theory sessions from home, while the in-person training included discussions, scenario-based learning, case studies and simulations.
My favourite part was the clinical attachment at NTUC Health Nursing Home at Chai Chee as I could transfer my learning into a real-life setting. 
It gave me a glimpse into the daily challenges and rewards of working in the healthcare industry.
I wanted to experience working in a hospital setting. So, before graduating from HMI Institute, I applied to Tan Tock Seng Hospital and started there as a senior therapy assistant on Feb 20.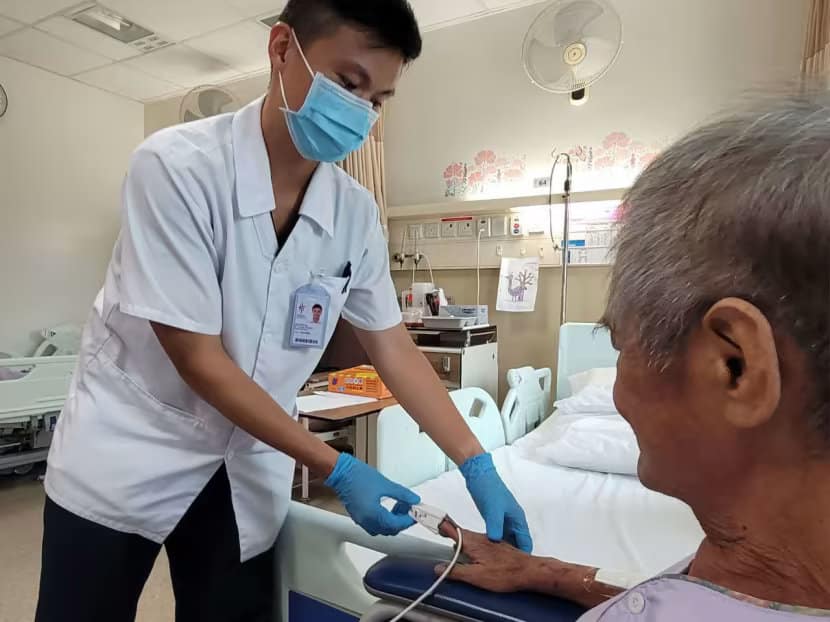 I now help to prepare patients for treatment. This includes setting up equipment and supervising therapy activities with physiotherapists.
It was daunting to start from scratch and enter a whole new environment, especially since working in an acute public hospital can be very fast-paced.
At times, I encounter patients who are not receptive to physiotherapy.
I would then approach my physiotherapists and mentors for advice to manage such scenarios.
Despite these challenges, it is gratifying to see patients recover from their injuries or illnesses and regain their mobility.
My family and friends also gave me a lot of support through this journey — and the best part is that I now have more time for them.
I have no regrets making this move and my goal is to become a full-fledged physiotherapist after taking the required training. 
I hope that my journey can inspire my child and show others the possibilities that can be achieved through perseverance, determination, and — most importantly — the right support.
With the right mindset, anything is possible.

ABOUT THE WRITER:
Mr Alan Chiang, 38, is a senior therapy assistant at Tan Tock Seng Hospital. He joined the healthcare sector after 10 years in corporate communications so he could prioritise his family and watch his young child grow.
If you have an experience to share or know someone who wishes to contribute to this series, write to voices@mediacorp.com.sg with your full name, address and phone number.