Kris Chew, WSQ Therapy Support Student
Overcoming challenges and doubts to pursue his dreams
Growing up, Kris Chew always had a passion for sports and was a school athlete. However, as an active gym member, he sometimes sustained various sports injuries which led to recurring impediments on his mobility through the years. The then-manager in the automotive industry turned to yoga to rehabilitate his injuries and muscle aches, going for weekly classes and training courses. At that point, physiotherapy had remained a side interest as he steeled himself for professional prospects in the automotive industry over the course of his 22-year career.
However deep down, Mr Chew knew that staying in the automotive industry was not what he was passionate about. What signaled the turning point for Mr Chew was his wife plucking up the courage to quit her high-paying day job in pursuit of a diploma in eldercare. Emboldened by his wife's bravery, Mr Chew did some homework of his own and stumbled across HMI Institute and its key role in helping individuals make mid-life career switches.
Upon further research, he was heartened to discover that HMI Institute specialised in equipping older individuals in their transition into a new career in healthcare. Moreover, Mr Chew's initial fears over the financial burdens of pursuing an alternate path were quelled by the SkillsFuture program, which allocates varying levels of government subsidies for enrollment at HMII's courses.
Additionally, the mental preparation Mr Chew went through, together with his determination to pursue his passion, addressed the well-intentioned concern expressed by his family members towards the prospect of leaving a 22-year career behind. In fact, on the contrary, Mr Chew has discovered a renewed zest in a career field he feels passionately about, and has never looked back after taking this leap of faith into healthcare.
Learning From Scratch
With high hopes, Mr Chew began his journey at HMI Institute under the Therapy Support program. Students were exposed to the basic skills and knowledge required in the fields of Physiotherapy and Occupational therapy, such as the do's and don'ts of the occupation, as well as real-life anecdotes of treating patients in a nursing home and hospital setting. The hands-on approach meted out by experienced lecturers gave him notable insight into the realities of working in the healthcare sector, amply preparing him for his eventual interaction with patients.
However, nothing worthwhile comes without a challenge – Mr Chew found himself struggling with the more technical aspects of the course. These challenging moments spurred Mr Chew and his classmates on towards mastering the skills required of therapy assistants, allowing for many heartfelt moments of unity as the class developed stronger bonds through overcoming these common difficulties.
"Once you are confident, go for it, and don't look back!"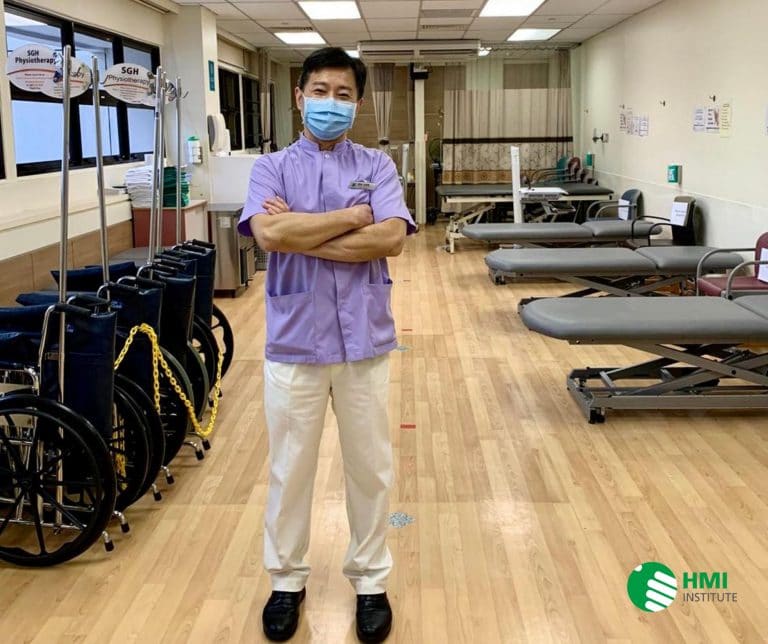 As he embarks on his new journey as a qualified Therapy Assistant at the Singapore General Hospital in June, Mr Chew expressed his hopes of demonstrating the organizational skills demanded of a full-time healthcare worker, such as time management in caring for multiple patients simultaneously. He also hopes to demonstrate adaptability and emotional intelligence in catering to patients who speak different languages and dialects through clear communication skills, while maintaining his personal fitness to a level that is expected of a Therapy Assistant.
When asked for words of wisdom for others who may be sitting on the fence of such a life-changing yet rewarding decision, Mr Chew shared: "Be truthful and know what you want for yourself. Full clarity on your choices can only be obtained with proper planning and research. Once you are confident, go for it, and don't look back!"
If you are similarly interested in undergoing courses at HMI Institute to equip yourselves to enter the healthcare sector, contact us at courses@hmi.com.sg or at +65 8121 1892.