Patient Service Associate
Introduction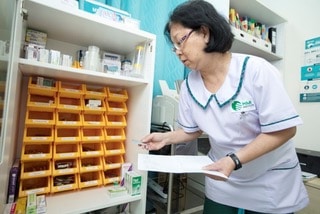 Overview
The Work-Study Certificate (WSCert) is part of the suite of SkillsFuture Work-Study Programmes offered by Institute of Higher Learning (IHLs) and appointed private providers, as well as the industry. WSCert provide individuals with more opportunities, to develop new skills and knowledge, and build on what they have acquired in school, through a work-study arrangement. PSAs perform patient registration, scheduling, medical records management, and cashiering within an institution's Hospital Management System. PSAs also provide front-line patient relations, perform financial counselling and provide clinical support to assist medical professionals and facilitate care delivery.
Career Prospects & Progression
This course prepares students for the Patient Service Associate (PSA) job role. Entry level PSAs provide quality customer service and frontline care to patients and their family members in a hospital or clinical setting, both public and private. Graduates can expect a stable and secure entry career in healthcare. With a friendly attitude and good work ethics, graduates can look forward to promising career progression. Patient Service Associate > Senior Patient Service Associate
Award of Certification
SKILLSFUTURE WORK-STUDY CERTIFICATE FOR PATIENT SERVICE ASSOCIATE By HMI Institute of Health Sciences
Course Information
Duration
2 Months (Full-Time)
Delivery Methods
The course comprises technical skills and behavioural skills required of a PSA.
Assessment Methods
Oral/written tests, assignments and practical performance
Graduation Criteria
The criteria for graduation are based on students' attendance and assessment results. Students must meet the 75% attendance criteria, as well as complete and pass all assessments of the course before they are able to graduate and receive their Certificate. All full qualification courses comprise theory and practical assessments.
Entry Requirements
Minimum
1 pass in GCE 'N' Level (any subject) or, WPLN Level 4 (Speak, Listen, Read, Numeracy) and Level 3 (Write)
Certified medically fit for healthcare work by approved clinics
Completing a successful employability interview by HMI Institute
Fee Payable
Course Fee
COURSE FEE STRUCTURE & SUBSIDY SkillsFuture Singapore's (SSG) subsidy applicable to Singaporeans & Singapore PRs only

SKILLSFUTURE WORK-STUDY CERTIFICATE FOR PATIENT SERVICE ASSOCIATE (280Hrs) WSQ Cat-A Funding

Full Course Fee Before SSG Subsidy

$6,751.27

SSG Course Fee Subsidy

90% of course fee

$6,076.14

Non-Subsidised Course Fee Payable by Employer including GST

$722.39

SkillsFuture Credit (S'poreans 25y/o & Above)

Not Applicable

Post-Secondary Education Account (PSEA)

Not Applicable
If you are new to HMI Institute and wish to inquire about our training courses, please fill in the contact form.