WSQ Certificate in Healthcare Support
(Nursing Care)
Introduction
Course Information
Entry Requirements
Fee Payable
Introduction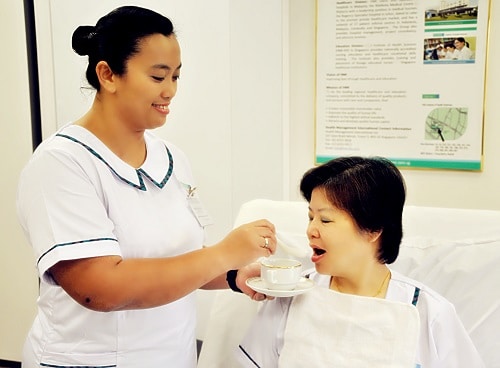 Overview
Learn the basic skills and knowledge of assisting in patient care activities, general housekeeping, transporting and dispatching of documents and specimens. Upon completion of this course, you can work in a hospital, nursing home or day rehabilitation centre.
Career Prospects & Progression
Trained HAs have good job prospects and are high in demand. Graduates can expect a stable and secure entry career in healthcare. With a friendly attitude and good work ethics, graduates can look forward to a promising career progression.
Healthcare Attendant > Senior Healthcare Attendant > Team Leader/Supervisor > Controller
In addition, graduates who are interested to further upgrade can take up WSQ Higher Certificate courses for higher level positions such as Healthcare Assistant.
Award of Certification
WSQ Certificate in Healthcare Support (Nursing Care)
By SkillsFuture Singapore (SSG)
Course Information
Entry Requirements
Fee Payable
If you are new to HMI Institute and wish to inquire about our training courses, please fill in the contact form.